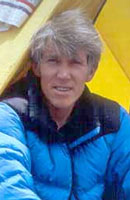 For the first time in history Russian climber Valery Babanov dared to throw the gauntlet to the unclimbed North Face of the peak Meru in Garhwal Himalayas. This wall was called `Sharksfiní for its original profile.
Valery Babanov has been executing solo ascents by extremely hard routes since 1993. Solo ascents of this kind require pinpoint accuracy in climbing and a great deal of personality. In summer 2000 Valery scaled sensational first ascent of the North Face (ED+) of Kangtega peak (6799m, 22,306 ft, Himalaya). For the 20 years of his climbing career he has ascended more than 200 routes (all seasons) and more than 60 of them are extremely difficult. Nowadays Valery Babanov is one of the best climbers both of Russia and of the world.
Some of the latest climbs of Valery Babanov:
- Mt.Borille (Alaska), new route "Forever more" ED (VI 5.10 A3) on northeastern bastion, solo. First ascent (summer 1999).
- Grandes Jorasses (France), new route ďEldoradoĒ on North Face of Pt.Whymper ED+ 1200 m, solo (summer 1999)
- Kangtega peak (Himalaya) North Face ED+ solo.
Valery has 25 years of climbing experience. He was born in city of Omsk in Siberia and now lives in Shamonix (France) with his wife Olga. Olga is also traveling with him, she is in ABC under the wall and sends news about his progress on the route.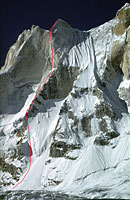 Meru Central - 6500-meter (21,300 ft) peak in Garhwal Himalayas. The target route starts from steep 700-meter (2,300 ft) ice face leading to the 800-meter (2,600 ft) segment of hard solid rocks of so-called ` Sharksfiní wall. To enhance the speed on the route, Valery plans to pass the lower part without a rope. Starting weight of the haulbag is about 50 kg. (110 pounds). Climbing the route is supposed to take about 10 days; 12-13 days including descent.
At Valery Babanovís www-site you may find a list of his ascends, photo gallery and some information about this and other projects.
General sponsor of the project is BASK company (extreme clothing and equipment).
Other sponsors are: Simond (France), Petzl (France), Beal (France), Gore-Tex (France).
Valery was provided with a satellite phone (official sponsor - mobile and satellite connection company REARM Division) and a personal computer (sponsor - MacCenter). With this hi-tech Valery is sending information to the general sponsor of the project, BASK company, and to his site www.babanov.com
Internet project hPCru: hand-held personal computers in Russia will regularly comment the work of modern equipment in extreme conditions of Meru expedition.
The Unclimbed North Face of the peak Meru in Garhwal Himalayas.


Valery Babanov. SOLO!
(8.06.2001)
Meru peak - to be continued!
According to BASK company, sponsoring Valery Babanov's solo on Meru Central peak in Gharwal Himalaya (6,500 m / 21,300 ft), Valery will repeat his solo attempt in autumn 2001.
(27.05.2001)
"Greetings to all. Yesterday we returned to BC. Once again I tried to ascend Meru summit. This time it was not so difficult but much more dangerous route. Fickle weather refused to let me higher than 5400m. Here I decided to stop my attempts as no time was left for us. Tomorrow porters will ascend BC and on the 28th of May we'll descend to Gangotri. We'll fly to Deli on the 1st of June; the same day at 10.05am we'll fly to Moscow. Flight ' 536. See you in Moscow, Valery and Olga."
(23.05.2001)
"It's Ok with us. Today American team left to ABC. They plan to start tomorrow. We are also going to ascend ABC tomorrow. There are some ideas about climbing Meru, but nothing is clear now yet. It will be certain when we are upwards. We are leaving for two or three days. Our phone will wait for us at BC. Weather is fine. Liana, many thanks for T. Hubert's letter. Send him my kindest regards. We wish him good weather and good luck at Ogre. I'm sure to communicate with him on my return from the expedition. Valery and Olga."
(22.05.2001)
Peak Meru.
"Greetings to all, it's all right with me. Now we are in BC at Tapovan. Today we walked to Bhagirathi. It◊s about five hours from BC. I try to gauge something for the future. Americans stay here, in BC. They still are clam about the date of their future attempt to Meru. The weather is getting better. Well, and the time allowed for my residence here is running out. Nothing is clear with our plans for next days yet. Everything depends on weather. We are going to move from BC to Gangontri on the 29th of May (in the morning). That's all for the moment. Valery and Olga."
(21.05.2001)
Peak Meru.
"Greetings to all. Itís morning of the 20th of May and itís me, Valery Babanov, who is writing this letter. Yes, it means that Iím adown. Such is life. There was an abrupt turn in the weather on the 14th of May and this turn was not in our favour. That day I reached the altitude of 5,850 m (19,200 ft). and everything was going fine. It seemed that half the battle is won. At least half of the way (measured by length) was passed. Afternoon it began snowing. Snow had to stop that night, but - it has been falling up to date. Five days I spent on a portaledge at the wall waiting for changes to the best. I made several attempts to continue climbing but each time snowfall drove me back into a portaledge tent. In the morning of May 18 2001 I took the sad, but the only safest bet in this situation. I decided to return. I started at 9.00 am and was slowly making my way down through continuous snowfall and thunder of avalanches. The situation was accentuated by the route of descent - it was following a diagonal line. It was frequently cut with avalanches. Taking such a great amount of equipment down is not easier than getting it up. Several times big avalanches rolled over me, but on descent my luck was in. That day I couldnít get to ABC so I spent the night on a portaledge several pitches above the bergschrund. I reached ABC at 8.00 on the 19th of May. I recall this descent as a nightmare. Continuous struggle with snow, a heavy haul bag and a `naughtyí portaledge that hitched on every detail of relief. All this was going to the accompaniment of roaring avalanches, sliding near or above you. Well, the essential is that we are alive. The mount? Weíll return to itÖ
Yesterday, on the 19th of May, we returned to BC in Tapovan at 4,200 m (13,800 ft). American team is here. We chatted a bit. They also realise that their chances are iffy. The weather and the route theyíve planned promise little hope. They have three weeks left, though. God bless them; maybe they still manage to succeed. Now we with Olya are in BC. Sprinkling of snow around. No detailed plans we have for next days. We still need to take all the equipment down from BC. So thatís that. Kindest regards to all. Any news from other expeditions? Valery and Olga."
(18.05.2001)
The weather shows no signs of improving.
"Moscow time is 7.35. This morning I again began with digging the tent out of snow. We still donít lose hearts and do hope for the best. This day began just as the previous one, with no signs of weather to improve. We were hummed to sleep with a pat of snow and we were awakened with the same sound. It seems there are no luck for usÖ All news for today. Valery and Olga."
(17.05.2001)
Dirty weatherÖ
"Today is the 17th of May. A situation with the weather and the ascent is stagnating. We are still waiting and `whistling for a windí. Valery and Olga."
(16.05.2001)
Dirty weatherÖ
"Today is the 16th of May. Itís snowing now. It had been snowing all the previous day and all the night till 4.00 a.m. Then there was a short lull when Valery attempted to continue and managed to straighten one rope. He wished to fix another rope but was stopped by a new fall of snow. Besides, there is an eight-inch layer of snow even on rather steep rocks and slabs, not to mention more flat relief. It makes the route dangerous without bias. We have nothing but wait. The point is that each wasted day reduces the terms of climbing. We have the final date fixed with the permit. Todayís morning I began with digging my tent out of snow. We make the best of it and hope for the turn of the tide. Valery and Olga."
(16.05.2001)
Itís snowing with short breaks since yesterdayÖ
"15th of May. It was a snowfall ample to terminate the work at the route. Today Valery is waiting out the weather at 5,775 m (18,950 ft). Fortunately the portaledge is proper and saves him there. Valery is still of good cheer. We hope the weather to change. American team has to go down to BC. Peter Takeda said: `We need really good weather for our alpine styleí, and it is exactly so. They have no portaledge. They were planning to spend three nights in a small tent and to have one sitting bivouac. With this weather itís impossible. At the same time Valery has no choice. There is no sense to descent after five days on the route. We need to wait still we have time and hope. Many thanks to all for messages and support. We have no opportunity to reply personally because of satellite time limits, though. Exclusive thanks to Anya Seregina from Valery Babanov. Thatís all for today. Valery and Olga."
(15.05.2001)
Peak Meru. Sky-hooks were brought into action and American duo started.
"14th of May, 18:45. Yesterday, i.e. on the 13th of May, Valery had a bivouac at the rocky rib that completes a long snow-ice spur leading to the `black wallí (as we called it). The altitude is about 5,620 m (18,440 ft). That day Valery had climbed two pitches along the rocky rib from the left to the right. He reached the altitude of 5700 m (18,700 ft). and returned to the old bivouac for the night. Altitude is given only approximately; our readout depends on barometric changes. Today Valery was hauling all the belongings by fixed ropes. Yesterday Peter and Dave ascended to ABC. They presented me several boiled eggs, a pack of biscuits, `Pringlesí chips and, the main present, an exotic fruit mango. At 6 pm radio session Peter spoke with Valery. The 14th of May, Peter and Dave started at 5am. At 8 am they reached the snow ledge where Valery had his first bivouac and pitched a tent for the next night there. They are planning to continue at night and to cross the snow-ice side to the right of the bivouac. While Valery tries to keep to the left as something is permanently falling from the right. He told them about it. Maybe they are more mobile now and will manage to pass it quickly, though itís upper part is rather steep. Itís still daytime now, so Iíll complete my information in the evening. Since morning Valery had been hauling his chattels to 5,775 m (18,950 ft). After it he faced a big pinnacle on a route and spent 2,5 hours to pass it. Even sky-hooks were brought into action for it. He had time to look over the further route. It seems to be easy. Rather flat ridge, iced slabs with snow above. Accuracy is required. But the snowfall began and it continues even now. It was snowing about four hours. We hope the weather to clear to the night. Valery has fixed the rope at 5,800 m (19,030 ft). After it he descended to 5,775 m to spend the night there. He had strength and will to work, but ample snowfall spoiled the plans. Now he is having his dinner. Thatís all for today. Valery and Olga."
(12.05.2001)
Peak Meru. Ice pitches are behind.
"Greetings to all! Today is the 12th of May, itís 18:36 at the moment. Iím specifying the date as our PC gave the wrong info previously. Yesterday I wrote nothing as Valery finished too late. Now Iím sending news for the last two days. Valery has passed all the snow-ice side 1000 metres in length. Elevation change from the beginning (5.100 m.) to the end (5.700 ms.) is 600 m. All is well with Valery. I forgot to ask him how did he find the new portaledge, but Iím sure to ask him next time. I think itís Ok as he didnít complain. Tomorrow Valery plans to start passing the ledge stretching from the left to the right, approaching the wall itself. He doesnít know the time it takes, probably two or three days. American team went away to rehabilitate and has not returned to ABC yet. Waiting for them every day. If I write nothing about weather it means no changes. `Frailty, thy name is womaní, and weather is a lady of special temper. Iím afraid not to speak, but even to think about her. All for today. Greetings from Valery. Olga."
(10.05.2001)
Peak Meru. First day on a route.
"10th of May. Greetings to all. I have just spoken with Valery during evening radio-session. Today he has climbed about 250 m. of a rather steep snow-ice side. This night heíll spend at 5500 m, but the ropes are fixed till 5700m. He plans to finish this snow-ice side tomorrow. Its total length is (according to American team) about 1 km. The Americans themselves had ascended to us (to ABC), but Peter got headache and the same day went down to BC. Dave spent the night here and went down today too. They promised to return in two or three days. In general, they still have time. Frenchmen were at Shivling summit today and returned to the second camp. Weather is still playing in our favour. Valery is well and sends his regards to all. Iím Ok too not mentioning that I have to sleep furred with batteries (donít mix with cooking battery!), satellite phone and other ` shucksí not to lose connection with the outer world. Valery and Olga."
(7.05.2001)
Itís snowing in the base camp beneath peak Meru.
"7th of May. Greetings to all. We are lying in a tent in ABC at 4900 m. Itís snowing. Just two hours have passed since we ascended. Yesterday we took one more day for rest. We were sitting long at Americans and chatting with them, drinking tea and discussing our possible common plans. Only Peter and Dave are at the camp; both their friends, John and Chuk have been skiing somewhere for several days already. Peter postponed the start for one more day. Probably they wish me to test it. Frenchmen started to Shivling today. On our way to ABC we met one of the native anchorites. He has been keeping silence for four years already. He communicated us only with letters and gestures. He presented both me and Olga small buddhist pictures. Propitious omen. If the weather is fair, I plan to `get offí tomorrow. Itís about 40 minutes from our tent to the beginning of the route. The three ropes I fixed several days ago are fairly well seen. This part is not difficult, but the fact is pleasant nevertheless. Snow is still pelting down the tent. Iím keeping the flags flying. Bye, Valery and Olga."
(5.05.2001)
American duo is starting the next day after Babanovís start.
"5th of May. Hello, we wrote nothing for last four days as we were in ABC. But since tomorrow the hi-tech will be with Olga in ABC and we hope our information to arrive without breaks. American duo is planning to climb to the left of the route I draw at the press conference. My route has still suffered no changes. They have about two months in their hands but start with one-day difference with me. Tomorrow they returned from acclimatization. I think they plan to do it for five or six days while at me it may take at least ten days. Weather is unpredictable but now itís clear. Concerning our everyday life: we have hardly managed to remember the names of the cook and his assistant and the signal officer. We are fed well. All rumours about ` trashyí food here proved false. Yesterday we had a bath-and-laundry day and moved our tent, as at our old location there are `Great Miring Lakesí now. It was snow that had meltedÖ"