Please send your
emai/questions to:
info@Mountain.RU
Getting ready for the Wall in winter
September 1999. It took 6 days for the team headed by A.Abramov to climb 20 pitches of one of the most difficult walls in Kavkaz via Lukashvili route - the left part of the wall.


List of existing routes.
Kukurtlu
4,639 m / 15,220 ft
Russian ranking: 1B (walk up), 2A, 2B … 6A, 6B (the most severe difficult).
2B (snow/ice) "Via West shoulder", V.Markelov, 1936.
4A (mixed) "Coloir of South face", I.Jevseev, 1961.
5A (rock) "East bastion of South face", V.Naugolnyj, 1962.
5B (rock) "Bastion of West range", E.Zhizhin, 1967.
5B (rock) "South face", V.Nekrasov, 1957.
6A (rock) "West face", R.Giutashvili, 1974.
6B (rock) "Center of North-West face", T.Lukashvili, 1981.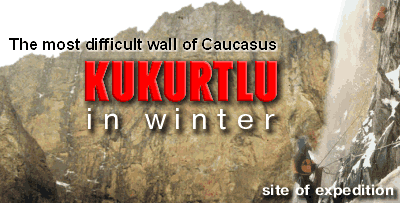 14 December 1999,Tuesday, 16:00 (GMT+3h)
Alexander Abramov speaking: "All members of the expeditions have safely reached valley, the area of shepherd's summer huts. On December 16 we will arrive to Hurzuk settlement. The weather is fine. Sergej Schepachkov is already in Moscow. He feels good."
12 December 1999,Sunday, 20:00 (GMT+3h)


The Expedition is being cut down:
More info: Audio message from the expedition recorded in MP3 (voice of A.Abramov from Base Camp) - in Russian
"The expedition could be considered as a reconnaissance in force. A lot of conclusions are made, both positive and negative. One of these conclusions - it is practically impossible to make this route in winter. Short light day and strong frost makes the speed approximately four times less than in summer conditions. We have climbed a quarter of the wall. Further possible variants could be seen, but the wall is very difficult. It is also prooved by several previous unsuccessful attempts on the route (in summer). Our common sence is to complete the route in summer-2000, although during last 18 years all attempts to climb the route have failed. Now we have looked closely at the wall and got some experience on the route. Even we have left a message on the wall with kind request to leave the route for our team next summer. Serg Schepachkov is down in valley already. Iljas is injecting him some painful medicine, and Serg wails. (On Tuesday Dec 14 Sergej Schepachkov has a flight back to Moscow).
We have taken down all equipment from the wall, except 3 ropes, which we are going to take off tommorrow. Also tommorrow we will start to move down towards the valley. It should take approximately a week in total - 5 days to go down and 2 days in train to Moscow."
09 December 1999,Thursday, 19:30 (GMT+3h)


Today Segej Schepachkov is descending down to valley with symptoms of pneumonia…:
More info: Audio message from the expedition recorded in MP3 (voice of A.Abramov from Base Camp) - in Russian
"Today at around 02:30am while spending the night in the portaledge Sergej Schepachkov felt bad - signs of early pneumonia. At 09 am we were ready to descend (Alexander Abramov and Sergej Schepachkov), but started to go down only at around 10 am. When we descended to Base Camp Sergej was feeling bad, a first aid was done, and Sergej accompanied by Iljas Tuhvatullin and Andrej Bondarenko went towards valley (there are shepherd's summer huts there). Now it is around 07:30pm, and by now the Base Camp had no radio session with this party, but generally speaking, Sergej felt better when they were going down. Here is the news…
All through the night and until noon the weather was very… "
08 December 1999, Wednesday, 19:30 (GMT+3h)


Moved to the right to a solid rock slab using pendulum technique:
More info: Audio message from the expedition recorded in MP3 (voice of Artem Sergeev (support team, radio/sattelite communications) from Base Camp) - in Russian
"Today guys have climbed one pitch. They moved using pendulum to the right to a solid rock slab and climbed up this slab. The weather was fine. We were on air with them from the Base Camp almost all the time. Tommorrow the way they climb is going to be more "logical". There is a crack, and they will obviously move faster using this crack. The spirit of the team is high. Appetite is Ok. Tommorrow Vasilij and Iljas (the second climbing party which were staying in Base Camp) will climb to Alexander and Sergej, and they will exchange their roles, while the first climbing party (Alexander and Sergej) will probably go down. They will lift all haulbags tommorrow a little higher. There is a belay station fixed in the upper part of the rock slab, planned to be used as the place for the next bivuac. "
07 December 1999, Tuesday, 18:30 (GMT+3h)
The team proceeded 20m:
"The team proceeded 20m. A very difficult part of pitch, rock itself is very unstable. The weather is unstable too: fog in the morning, clouds in the evening. Team's mood is very high: guys are going to make a really perfect route." (See. Progress on route)
06 December 1999, Monday, 19:00 (GMT+3h)


The team has finally took off:
More info: Audio message from the expedition recorded in MP3 (voice of Artem Sergeev (support team, radio/sattelite communications) from Base Camp) - in Russian
"Today the team has climbed up fixed ropes to the "3-rd shelf" and are will be spending this night in a portaledge." (See. Progress on route)
05 December 1999, Sunday, 18:30 (GMT+3h)


"The wall above us is terrible a??. hole":
More info: Audio message from the expedition recorded in MP3 (voice of A.Abramov) - in Russian
"Today we spent time by lifting our bags. Tommorrow we will move from Base Camp to the portaledge at the "3-rd shelf". The weather is surprisingly fine today: it is warm and sun in shining. We have estimated our speed and the route… it will take around 15-20 days to climb.
By now we have done 2 pitches on the wall, but the main part of the wall is still ahead. We had a glance from the left at "Lukashvili route" (6B grade, highest possible in Russian scale) - it is less steep and local relief of the rock is much easier - rock elements are bigger. But our part of the wall ahead is..(guys are promting)..ass hole. Well, after at least 15 days climb it could be possible… Many thanks to our colleagues - support team - cannot imagine what we can do without their help here…"
04 December 1999, Saturday, 18:30 (GMT+3h)


The weather has got fine. The team has almost reached the "3-rd shelf" (where the portaledge should be installed for the first time on the wall):
More info: Audio message from the expedition recorded in MP3 (voice of A.Abramov) - in Russian
"The weather during all night was terrible. Gradually it became better and at 11:00am we left Base Camp. We have reached our upper pitches only by 14:00 and started to move further. As a result we almost reached the "3-rd shelf" today. Rock was very soft and shifting, and we had to fix 2 bolts.
There was no wind on the wall, but snow which covers ice at the basement of the wall is being blown off, and ice is becoming displayed on our way to the rock from the Base camp. Our plan for tommorrow is to rech the "3-rd shelf", lift all our haulbags and to set a portaledge bivuac there. We will take-off finally the day after tommorrow (on Dec 06), that is the team will move to the portaledge, and start to move up. There is no snow on the wall, and we are going to leave 3 fixed ropes down from the "3-rd shelf" to ice of wall's basement, so that we can easily bring "icebricks" as water source."
04 December 1999, Saturday, 9:30 (GMT+3h)
"The weather became very bad. The team asked to find out weather forecast for the area."
03 December 1999, Friday, 18:30 (GMT+3h)


Alexander Abramov calling by Iridium sattelite phone from Kukurtlu:
More info: Audio message from the expedition recorded in MP3 (voice of A.Abramov) - in Russian
"The team has started to fix pitches today. Results of the first day:
Roped parties has passed the basement of the wall - snow, followed by funnel-shaped ice. Lower part of the "funnel" is bare ice.
Middle part of the "funnel" is ice covered with snow which is being blew away by strong wind. Probably tommorrow will have to add fixed ropes there also. The upper part (3 pitches) is also bare ice. There are 2 pitches fixed on rock (that follows ice pitches). As it was planned before, climbers have reached a big snow "shelf" approx. 60m / 200ft to the right from the beginning point of "Lukashvili route". There was 1 rock pitch before this "shelf", and another rock pitch is fixed above the "shelf". (See. Progress on route)
As a result, there is distance of 1 pitch remaining to so-called "3-rd shelf", where climbers are going to fix a portaledge. Tommorrow climbers are planning to reach this place and to continue fixing ropes on a rock above the "3-rd shelf".
At the same time our supply team continued to carry luggage and gear from yesterday's helicopter landing spot (at distance of 2-2.5 hours walk down) to Base Camp. Expedition feels they are lucky to take the helicopter yesterday - today will be too late for helicopter. The weather is much worse than yesterday and is getting even more worse very quickly. North wind brings solid clouds, the wind is very strong. The wind picks up a blizzard which fills the air at height up to 2m everywhere - all glacier and basement of the wall, except the wall. It sems that the wall is the only calm place, therefore the team tries to take off to the wall with the portaledge as fast as possible."
02 December 1999, Thursday, 11:30 am (GMT+3h)


The Helicopter landed 3-4 hours walking distance from the Base Camp under the wall:
"Alexander Abramov speaking. We have took off from Baksan gorge today at approx 10 am. At about 11 am the helicopter landed somewhere 3-4 hours walki from the place to set Base Camp under the wall. Now we are starting to carry our luggage. The Base Camp will be settled before the night. Tommorrow a party of two will start first pitches, and the rest will continue carrying the gear. That's our plans.
The weather is fine, almost no wind. The wall is not yet lighted by the Sun, probably it will not be lighted by the Sun at all. According to September experience it starts to be lightened by the Sun after 3 pm."
01 December 1999, Wednesday, 22:00 (GMT+3h)


Alexander Abramov calls from Azau:
"The weather down in Nalchik is bad. Here the weather is moderate, sky is clear except light clouds that are very high. If the same weather is tommorrow the helicopter will not take off probably.
Now a few words about the team. It was initially planned as: Abramov, Schepachkov, Tuhvatullin, Vlasov. But in the last day before we left Moscow Vlasov's daughter felt very sick and he couldn't join us. Therefore we had to make a very fast decision about the fourth member of climbing party, because our plan was to climb in a team of four. The fourth member will be Vasilij Petrushin, he was supposed to be in the auxiliary team, but he also has a sound experience in climbing in winter, and in past he was a member of the Army climbing team.".
Monday, November 29, 1999, 18:00 (GMT+3h)
Alexander Abramov calls by satelline phone from Azau (a place in the very upper end of Baksan valley, Elbrus basement from South, elevation 2,200m / 7,200ft). Monday, Nov 29 1999, 18:00 local time (GMT+3h).
Expedition arrived to Nalchik (capitol of the region) early today and reached Azau almost without problems. The party is staying in mountain hut "Logovo" (in russian stands for "The Den" or "The Lair").
It was snowing down in Nalchik.
There is very unstable weather in mountains. There is a lot of fresh snow, clouds are at 4,000m / 13,000ft and higher. It is lekely to be a snowstorm up there. The members of the expedition are waiting for ŕ helicopter which should take them closer to the wall of Kukurtlu. The helicopter will pick them up on December 2, as it was planned originally.
The above information was told by Iridium satellite phone and was immediately forwarded to the Press-Center of the expedition. Thanks a lot to Alexander for accuracy. Next call tommorrow, Nov 30, also at 18:00 local time.
During today's phone call we have successfully tested broadcast of radio conversations between members of the expedition (they use walkie-talkies) via Iridium phone. If nothing happens to the equipment, everybody will have an opportunity to listen to voices from the wall - Mountain.RU is going to publish records as audio-files.
Sunday, November 28, 1999
This day expedition members will spent in a train Moscow-Nalchik (2,000 km by train). Nalchik is a capitol of Kabardino-Balkaria republic, one of several regions in North Kavkaz. Nalchik is located at elevation 500-700 m above sea level near the basement of the mountain range.
Among members of the expedition there is Artem Sergeev, responsible for communications. With his help Mountain.RU editorial will receive news about the expedition and immediately publish up-to-date information. Artem is expert on Iridium system, he perticipated in implementation of Iridium on the territory of Russia.
Because of constant overhangig, the team does not plan to meet any water sources (snow shelves, icicles). The team is going to take chipped ice.
The climb will probably take 10-12 days, as the best, and in the worst case it is planned to do 1 pitch a day.
After "take-off" all four climbers will use a portaledge designed especially for this expedition. .
Friday, November 26, 1999
On 27 November 1999 team is leaving Moscow by train (Moscow-Nalchik) - 2 days in the train. Arrival in Nalchik on Monday 29 Nov.